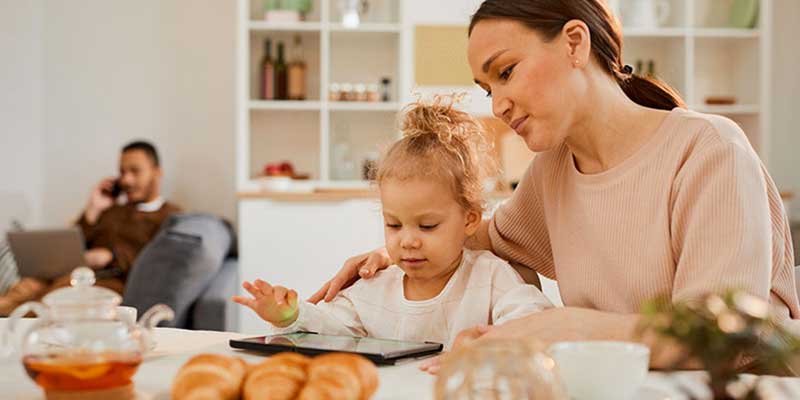 While people might initially assume that the current COVID situation has not affected stay-at-home parents very much, this could not be further from the truth. Between school aged children now being required to be at home all day, after school activities canceled or moved online, and partners either working from home or not working at all, things have dramatically changed for stay-at-home parents.
A major aspect of this change has been stay-at-home parents taking on the role of teacher as well as caretaker. While being used to provide support and assistance to their kids, this extra expectation has become a source of added stress. We've compiled some tips so that stay-at-home parents can navigate the current situation and flourish!
Take Time to Connect
One of the major challenges facing stay-at-home parents has been loneliness. When partners and children leave the house every weekday, the stay-at-home parent is left behind. This can cause major feelings of loneliness and separation, which can lead to depression and resentment. While many stay-at-home parents maintain support groups to share feelings, vent frustrations, or simply to socialize, they can't always replace the attention and togetherness of family.
Now that kids and partners are home-based, there are still separations that occur. Children still need to do the majority of coursework on their own to make sure they are learning independently. When not doing school work or after school studies, they may want to play in isolation with tablets, computers, or gaming consoles. And while partners may be physically present, they are still on the clock and not able to engage. Having people in the home but not being able to connect with them can be incredibly frustrating for a stay-at-home parent dealing with loneliness.
We advise that families in this situation embrace family time as a means to combat these feelings. While everyone's mental well-being is important, it is vital that the rest of the family embrace and support the stay-at-home parent as loved, needed, and appreciated. Use family dinner an anchor point to keep everyone connected.
Share the Work
As the stay-at-home parent, you are probably the primary caretaker for not only the kids, but the entire family. Your family is probably not used to seeing what you do all day to keep things running, and probably don't notice the extra cooking and cleaning generated by their constant presence in the house. A lot of stay-at-home parents feel an obligation and a sense of pride from taking on the caretaking, but in extreme circumstances you are not expected to be superhuman!
Taking on the added time and effort to help your child with their virtual learning means that some things are not going to get done the way you and your family are used to, and that's okay. Having kids help you with the chores or making lunch is a great way to break up their day, get them away from screens, and have bonding time. You can even incorporate elements of the work they're doing in school into the tasks. Little kids can count out how many grapes go on their plate. Use laundry as a way for slightly older kids to practice their multiplication tables ("If there are 2 socks per bundle, and there are 4 bundles, how many socks are there in total?"). We've discussed in our blog before the benefits of chores for our kids, so embrace it!
Also, if you do have a partner or other family members at home, now is the time to involve them with the running of the house. While you may under normal circumstances be embarrassed to reach out to them, circumstances are anything but normal. And who knows? They may be waiting for you to reach out and ask for help, and don't offer for fear of hurting your pride or making you feel embarrassed. Just like we teach our children, be honest and open about your feelings, and don't keep it inside.
Seek Help from Others
If stay-at-home parents were meant to be teachers, we wouldn't have schools at all. But the truth is that, especially now, there is so much to learn and so many distractions and hurdles that get in the way of that learning. The current situation is just the latest and the largest.
Being a kid in the 21st century is not easy. Many parents today were kids themselves in this current century, and as millennials we are still navigating how expanded technology, social media exposure, and ever-increasing divides between groups affects us on a fundamental level. Fortunately, there are places to turn to when you need help, particularly when it comes to assistance with virtual learning.
Solutions like private tutors or pod learning, hiring a full-time teacher to offer in-person class for a group of 3-6 kids hosted out of a home, may be out of reach for many. An affordable option many parents have turned to is signing up for online learning through Best Brains. Their staff of certified teachers has gone fully online, offering weekly sessions in Math and English once a week to keep kids on track. They also offer homework help for normal classwork, so stay-at-home parents have someone they can turn to for difficult math questions, organizing research projects, or crafting essays. Plus, unlike many online learning companies that have only opened in the last few month, Best Brains has been an established brand for almost a decade.
Whether you've been a stay-at-home parent for years or have been made one by the current situation, know that you are not alone. There are resources out there and plenty of people whose job it is to support you and your family through this difficult time. Together, we will get through this better than ever!
Want to sign up for online learning with Best Brains? Let's get started!