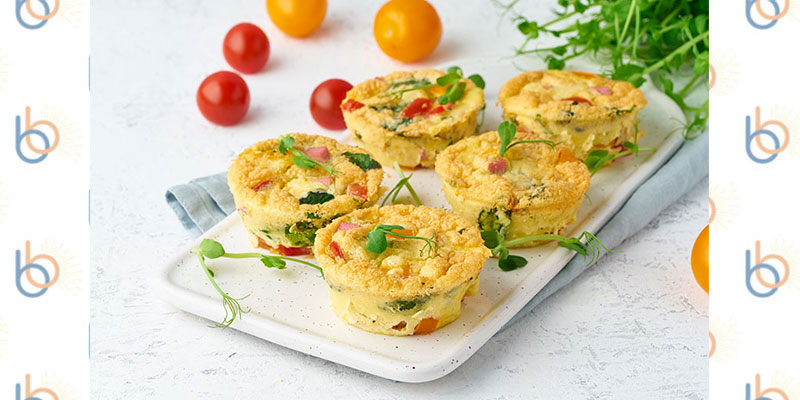 When it comes in incredible foods, it's hard to beat the humble egg. However, it is very easy to beat a few eggs together when you're creating a delicious omelet!
Quick to cook, protein-rich, and wonderfully versatile, the omelet is a breakfast staple. At the same time, omelets can be intimidating to cook due to lack of technique. Plus, an omelet can simply be too much food in the morning for one person, especially our kids. Can we find a solution to this delicious dilemma? Of course we can!
Enter the Omelet Muffin. Fluffy, convenient, and tasty, the omelet muffin in an amazing breakfast any time of the year. Made by combining beaten eggs with your favorite omelet ingredients and baking in a muffin tin, you have a smaller and much more portable breakfast than the traditional egg-normous diner omelet with all of the flavor!
In addition to being convenient and nutritious, omelet muffins are perfect for young chefs to test their budding skills. Teach good knife technique by letting your kids cut up cheeses or soft meats like ham, roasted turkey, and pre-cooked bacon with a table knife. Older kids can be trusted to chop onions, tomatoes, scallions, and other veggies which require a sharper blade. Advanced kid chefs can practice dicing with peppers, mushrooms, shallots, and fresh herbs. With the omelet muffin, everyone gets a say as to what flavors they want in their breakfast, and everyone can help with prep. Plus, like we discussed in our Sheet Pan Pancakes article, Omelet Muffins cook all at once. No more does someone have to take on the role of short order cook while everyone else eats!
Omelet muffins are customizable to any taste and many diet restrictions. Plus, they freeze well and can be taken on the go for extra convenience. We think they'll be an amazing Breakfast Solution for your family!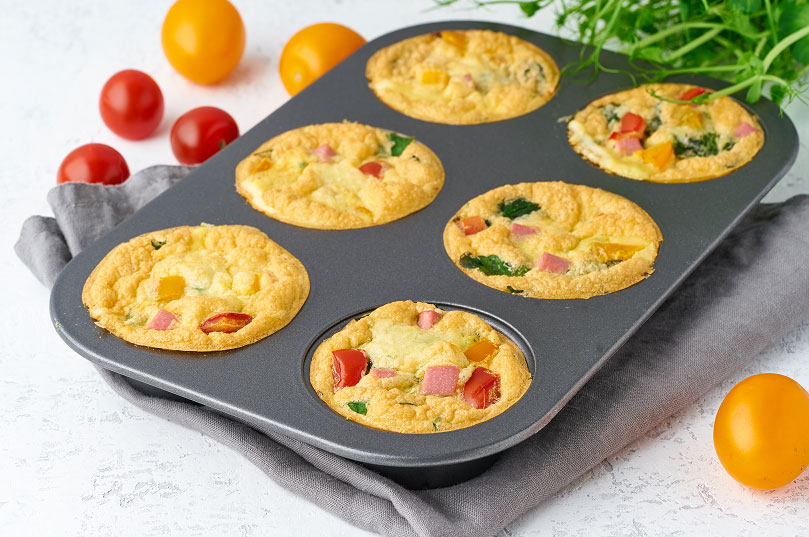 How to make Omelet Muffins:
Preheat your oven to 350°F (177°C) and grease up your muffin pan. A cupcake pan works just fine, too, they just won't need to cook as long. A butter spray is best for this; but you can use real butter or brush with ghee, olive oil, bacon fat, whatever your taste is! Next, prep your ingredients. Remember to cut your ingredients into bite size pieces suitable to the size of your pan. Classic combos of ingredients include the following:
Ham, cheddar, onion, and green bell pepper (The Western)
Wilted spinach, tomato, and white cheese (The Florentine)
Ham, cooked sausage, and cooked bacon (The Meat Lover's)
Cooked asparagus and gruyere (The Parisienne)
Make sure that certain vegetables you add get cooked a little on the stovetop before they go in the omelet for best taste. When all your ingredients are ready, prep your egg mixture by cracking eggs into a bowl and whisking until whites and yolks are blended. Add dairy (whole milk, cream, or half and half) for a more quiche-like consistency. Assume one egg for every muffin and make more if needed. Remember to add salt and spices to your eggs for maximum yum!
Now it's time to assemble. Have everyone in the family spoon their chosen ingredients into their muffin cups, then pour the egg mixture on top. Make sure to stir each cup a little to coat and spread out ingredients. Cook in the oven for about 20-25 minutes, or until eggs are set. You can freeze any leftovers for a quick breakfast or snack anytime! Enjoy!