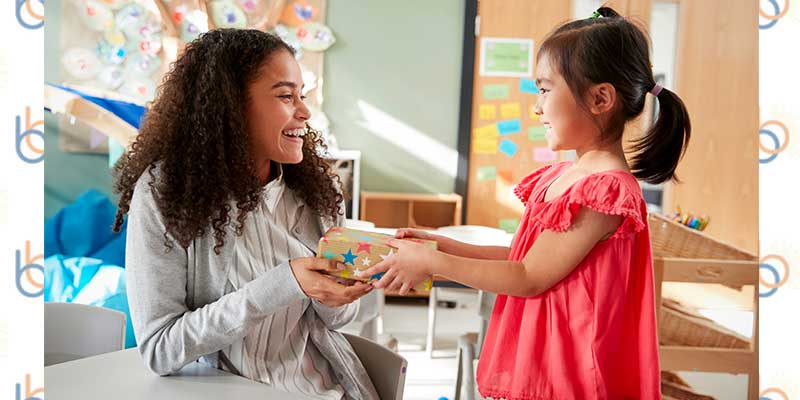 Many children want to give their teacher a gift for the holidays. While this is a great idea and one that should be encouraged, a "World's Best Teacher" mug or glass is not always the best choice. Just about every teacher will tell you that they already have several of these. So, what should you give them to show your appreciation for all their hard work? The options may be a little closer to the heart for most.
Gift cards
It's hard to go wrong with a gift card. These can be purchased at local grocery stores for just about dollar amount imaginable. And getting one from their favorite stores, coffee shops, or teacher supply outlets will go a long way to show that you care.
Homemade gifts and cards
We have found that many teachers love to receive anything homemade or crafted by their students. Your child's artwork, a handwritten card, or a crafted Christmas ornament with your child's name and the year on it are items that teachers can keep year after year to remember their students and all the lives they have touched along the way.
School supplies for all
Another great idea is to get them much-needed school supplies. Many teachers pay for classroom materials like lined paper, pencils, sticky notes, pens, erasers, and much more themselves. So, gifts of this nature are often much needed and will always be appreciated. If you don't know what to get exactly a gift card to bookstores and teacher supply stores is a great place to start.
Donations in their name
For schools or teachers who aren't in need of such items for their classrooms, they often suggest giving donations in their name instead. Find out what causes your teacher supports or cares about and donate either time, money, or specific items to that cause using your teacher's name. This will show your teacher that you care and are willing to help others who may be less fortunate and also gives that teacher an opportunity to be a part of that giving.
Thank you letters or notes
Sometimes the simplest of gifts can be the most precious. The job of a teacher can often be a thankless one that is taken for granted. Writing a letter or short note can be just the thing to brighten their day and make all their hard work this year worth it. A heartfelt "thank you" can say much more even the most expensive gift.
Ask just about any experienced teacher what their favorite gifts over the years have been and they will tell you about ones that came from the heart. The ones that really mean something are ones that were well thought out, painstakingly constructed by little hands, and given out of honor and a heart of appreciation, not from obligation. This year, instead of another coffee mug, give your teacher something that matters a little more.