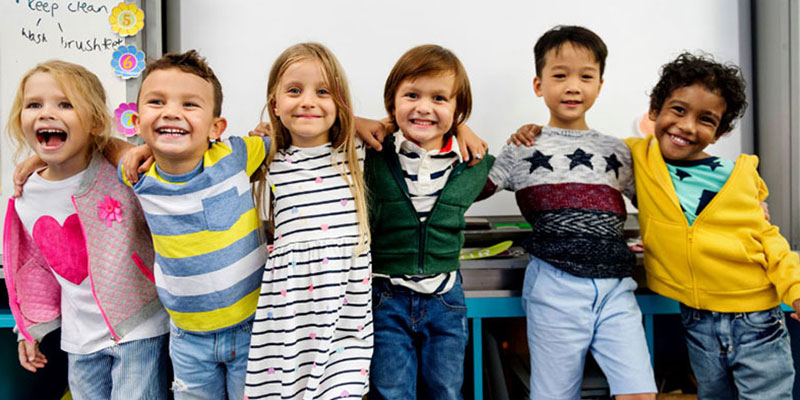 Our Math and English programs were designed to support kids' educational journey from preschool to high school. But with so much educational content designed for toddlers, what sets our Baby Genius program apart?
The Baby Genius program is designed for kids ages 3-5. If they're developmentally ready for preschool then they're ready to be a Baby Genius! The first two levels of our Math and English program are designed for the youngest students and provides the foundation for the knowledge they will acquire during their time with us.
So what does the Best Brains Baby Genius Program do? It helps our youngest students learn their A-B-C's!
Ability
Through our engaging and non-repetitive curriculum, we teach kids the building blocks of Math and English knowledge. Number comprehension, recognition and 0-10 addition in Math, and letter recognition, letter sounds and reading/writing the alphabet in English. Our Baby Genius levels are designed to transition young students into our more advanced levels. Baby Genius English creates a strong foundation for our phonic levels to accelerate reading literacy which we consider the key to learning. Baby Genius Math graduates are ready to understand subtraction and two-digit addition. And our Baby Genius courses help parents, too! Since our curriculum is aligned to the Common Core standards your kids are taught in school, going through the Baby Genius program with them helps you understand this new way of conveying information, giving you a head start as your child enters elementary school!
Behavior
Graduating from preschool and kindergarten to first grade can be difficult for most kids. Sitting at a desk, homework assignments and other classroom behavior is expected of them from Day 1. For the Best Brains Baby Geniuses, this transition is a breeze! As early as 3 years old, our kids are sitting with a teacher and are expected to work quietly, be respectful of the other children, raise their hand to ask questions and are even tested on their progress. Our Baby Genius teachers, who have degrees in early learning, help their students to master these skills and practice perfect classroom etiquette. Coming to Best Brains 30 minutes a week improves behavior noticeably according to our parents. Our Baby Geniuses can step into any classroom and know exactly how to act, which helps them focus on learning with no time-wasting or tantrums.
Confidence
Our parents have overwhelmingly reported that enrolling in Best Brains increases their child's confidence. For our Baby Geniuses, imparting this confidence puts them on the right track for academic success as they grow and age up through their schooling. The Math and English instruction and practice they receive is designed to set the groundwork for Common Core instruction so that they understand the basis of new concepts as they are introduced. Through a combination of 1-on-1 attention and daily practice at home, our Baby Geniuses learn that they can acquire new skills with dedication, positivity and a spirit of discovery. They also know that using their voice and asking for help will get them to the next level. Baby Geniuses walk tall into school even if they're only knee-high!
Now you know the benefits of our Baby Genius program. So how do you get started? It's as easy as 1-2-3!
Attend orientation. Our center director will meet with your family, assess your child's current knowledge and then find the perfect place in our Junior or Senior Baby Genius program to place them.
Show up for class! Our Baby Geniuses love attending class with our teachers, all of whom are state certified for Early Childhood Education or K-5 (Kindergarten through 5th grade). In small groups of 2 to 5 children, our youngest students learn new concepts and practice fine motor skills.
Practice daily. Our daily homework makes learning fun! Remember to read instructions for your little ones so they can reinforce those skills to be ready for the next class.
That's all it takes. Whether you focus on one or both subjects, your youngest can benefit from this program designed especially for them.
Looking for more instruction than one day a week? You're not alone! Best Brains has also designed an Early Learners Preschool Program! This unique program operates on the same schedule as a normal preschool, but with the high educational standards you expect from Best Brains. Students are in the care of Early Childhood Education teachers and other caring professionals, receive their Best Brains Math AND English instruction included in the program. And the best part? Unlike the regular Baby Genius program, Early Learner's is a daytime program so you and your little ones have the late afternoons and evenings free. Not every location currently offers the Early Learners program so see if there's a location near you!
Does your community need an education-forward preschool program? Open a Best Brains center and provide the highest quality education for your very youngest!