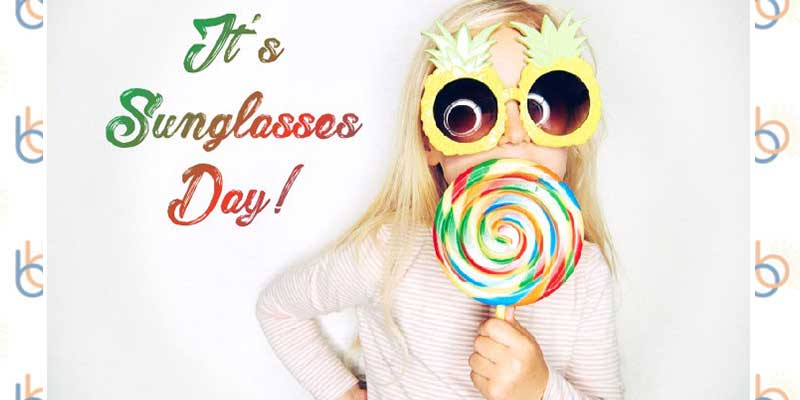 June 27th is Sunglasses Day! Combining both fashion and function, sunglasses might just be the ultimate accessory. Putting on a pair of sunglasses not only protects your eyes from the harsh glare of the summer sun, but it can also give you a whole new look and personality! So grab your aviators, plan your Sunglasses Day, and start celebrating!
Though the origins of Sunglasses Day is unknown, the history of sunglasses stretches as far back as 14th century China, where judges used eyewear made of smoke-colored quartz to mask their emotions. Fast-forward 600 years to modern times, the first mass-marketed sunglasses were sold by famous entrepreneur Sam Foster on the Atlantic City Boardwalk.
Let's take a look at a couple of the most famous sunglasses styles of all time.
Prada Model - SPR07F
Ciao bello! This model is mostly known for the look in the 1963 Academy Award-winning Italian film 8 ½, glasses are anything but old fashioned. They were first introduced by Prada as Prada model SPR07F, the design has definitely undergone some changes since the 60's. Anyway, these sunglasses might be one of the nicest designs which can not only be worn with a suit, but they make a suit look good.
Persol 714
Checkmate! The Persol 714 is the original folding glasses. Can you imagine a time when glasses were one solid piece, no hinges? These sunglasses were introduced in the 1960s, when the iconic actor Steve McQueen wore them in the film The Thomas Crown Affair. These glasses were based on the Persol 649 model and are tailored with 10 additional manufacturing steps to allow them to fold. Another fun fact: in 2006, a pair of Persol 714's from McQueen's private collection were auctioned off at nearly $70,000!
Made in the Shade
Since the 1960's, many famous styles and frames of sunglasses have been introduced like Ray-Ban Wayfarer, Aviators, The Clubmaster, and more. Each pair of sunglasses tells a story which inspires the imagination. For National Sunglasses Day this year, decide which of the above personalities or looks you'd like to follow. To do so, grab a pair of sunglasses to match the look. You can check in with an online glasses retailer for the styles of frames and lenses you want and enjoy the style while protecting your eyes at the same time.
Stay cool!