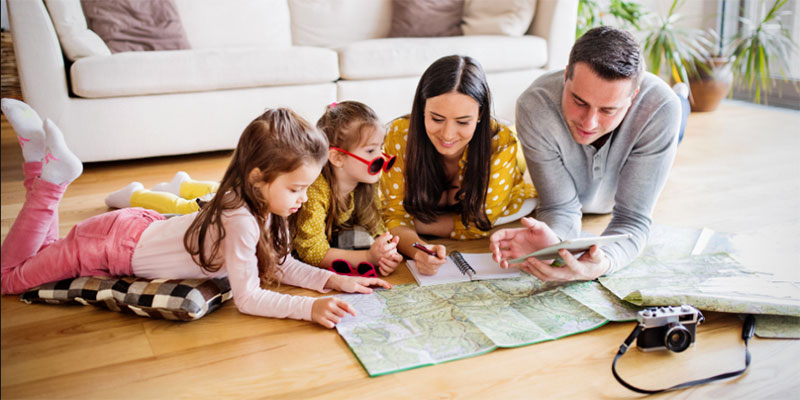 If your families are anything like ours, you've been experiencing some serious cabin fever as we enter our second summer in quarantine. While it is becoming safer to congregate due to expanded vaccine distribution, the fact is that we are still a while away from being able to travel normally without any concerns. Plus it's hard to ignore the fact that kids being less exposed to germs has been great overall for their health. Getting sick on vacation is a risk we no longer have the luxury to ignore. But we can find lots of ways to enjoy our vacations while being safe and keeping our exposure low! Let's explore some options.
Destination Spots Close to Home
With international travel largely out of reach, turn your attention to home. Every state and province has unique features, interesting destinations and plenty of tourist activities. Plus you can support local businesses and gain a deeper appreciation for your region. Look for farms and vineyards, themed towns or historic areas that make your feel like you're 1,000 miles away.
Go Remote
From mountain hideaways to secluded beaches, there are plenty of places you can get away from it all that really help you get away from it all! Especially now that many ranches, cabins and other getaway properties are better equipped than ever to facilitate your socially-distanced visit. Search along the great mountain ranges or remote desert areas for a throwback-style vacation that will seem like stepping backwards through time.
Conquer the Road
Is there anything more symbolic of a family vacation than an RV? Make the journey the destination by renting an RV and taking to the road. Visit off-the-beaten path locations where you can maintain as much social distance as possible. Plus, RVs come in lots of sizes so your whole pod can come along with you to partake in the fun – and share the driving!
Vacation Like a Local
Sometimes all we really need is a change of scenery. Vacation rentals can open up all sorts of possibilities. Find a house or condo comfortable for your family and spend some time living in another part of the country with all the comforts and safety of home. Plus you will assure an authentic experience and be able to participate in local culture and events. How do families on the other end of the country celebrate the Fourth of July or Canada Day? Is there a local holiday you've never heard of that you can take part in alongside the rest of the community? Now's your chance to explore!
However you choose to celebrate your summer vacation, we here at Best Brains wish you safe travels and to come home soon!