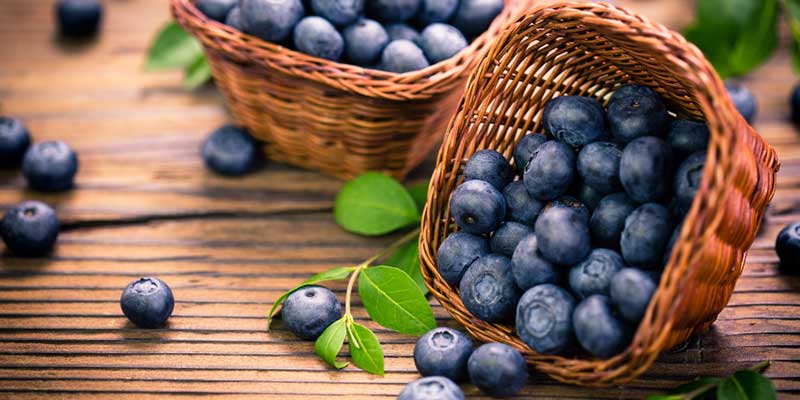 Each month brings something new to celebrate and this month marks the date of our nation's birth, and it also brings upon us the birthday of all the American fruit, blueberries. These are one of the first American fruits which has been proved to be a beloved berry since they were brought from farms to table back from 98 years ago. As per the survey, nearly 75% of U.S households purchases blueberries each month.
We have come to know that July is going to be a berry month and it is officially known to be the National Blueberry Month. Berries are the perfect ingredients for a guilt-free indulgence. So take the advantage of peak domestic season and celebrate this month with this wonderful little berry. While berries are the commercial crops grown in the parts of the world and US, these berries carry many nutrients.
History
The United States Department of Agriculture has recognized July as the National Blueberry Month in 2003, and it's been a month dedicated to eating yummy berries ever since. Whereas blueberries are the native crops of North America and are produced in 35 states, there were many efforts taken to spread this fruit's production and these highbush fruit productions have become an important U.S agricultural industry with a harvested area now estimated at more than 46,000 acres. While more than 55 percent of the 2002 crop was packed fresh to meet the demands of the customers, who want the plumpest and delicious blueberries possible, and the balance berries were either shipped frozen, canned or dried so that the U.S can enjoy the grown highbush blueberries anytime of the year by households throughout the world.
Did you know that blueberries are the perfect accompaniment to pancakes, muffins, bread, fruit salads, shakes, ice-cream toppings and of course they're luscious just on their own? If you are looking to have fresh berries, you can visit a farmers' market today and pick up a pack.
Celebrate National Blueberry Month with your friends, siblings or with your family and share your different types of blueberry treats.
Benefits of Blueberries
Blueberries are small, but they contain high levels of vitamins and minerals which are useful for all ages and all aspects of the body by improving the health of tissues, including those in the eyes. To celebrate National Blueberry Month, add this delicious fruit to your family's diet this month and experience the health benefits they have. Blueberries, along with other fruits contain anthocyanin, which helps you improve night vision and make you live strong.