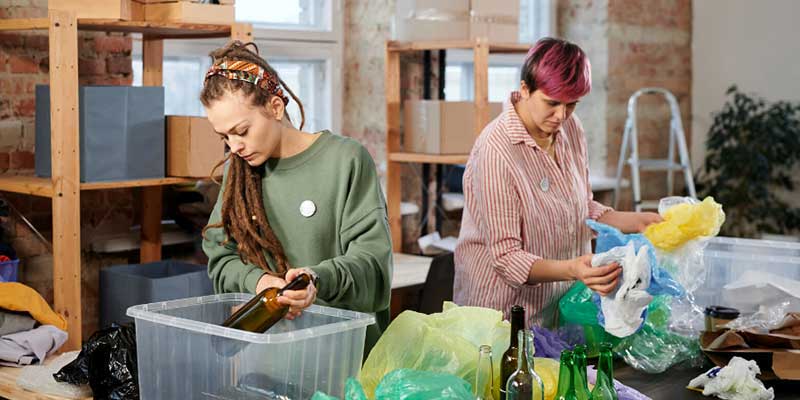 One of the most fun and productive activities you can do with your children at home is to start an at-home recycling program. Chances are, even if you have never talked about it at home, your children have already encountered the idea of recycling at school or at day care. By bringing this practice into the home, you give your children an important and fun practice that they can use to be responsible citizens for the rest of their lives.
The first step in starting an at-home recycling program is to find out if there are recycling facilities in your area. Maybe your neighborhood has a recycling program and provides bins and materials for free. If not, there are private recycling companies that will collect and process your recyclables for a fee. Whichever option you choose, you want to ensure that the arrangement is convenient and realistic for your family.
And think broadly. Even if there is not a facility to process everything you want to recycle, you can find easy opportunities to recycle some of the products your family uses every day. For instance, TerraCycle provides cardboard boxes so that you can pack up and ship your plastic snack wrappers. For a fee, they recycle these small pieces of plastic that we all use every day, and can't recycle through our normal neighborhood recycling programs. Companies like this make it possible to be creative about how you will structure your family recycling program. Perhaps you will only recycle glass. Or maybe your children can learn to recycle their cereal boxes when they are empty. Start small, teaching your children the importance of doing one good thing for the environment. As time goes on, you'll find that most children are excited about participating and finding new things to recycle.
Another way to make recycling fun is to allow young children to sort recyclable goods themselves. If your town only recycles type 1 and type 2 plastics, you can allow your 4 year-old to check the plastic bottles in the recycle bin to sort them accordingly. By making this her job, you assign her an important task that tells her that you trust her to be responsible. You also allow her some freedom to use her growing number skills and to be responsible for something that feels like a "grown-up job." Children love this.
However you decide to do it, starting and maintaining an at-home recycling program is an easy way to help raise engaged, aware children who make a positive contribution to the world.