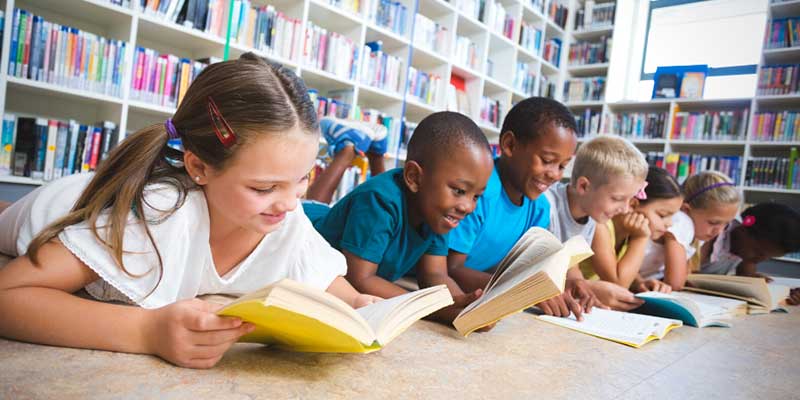 We all want our children to enjoy their education. Of course, there are also lots of critical life skills we need them to learn, whether they enjoy it or not. However, nothing has to be boring. Children are wired to have fun. By approaching basic skills like reading as an opportunity to explore the world and have fun at the same time, we can invite our children to be excited about learning new things.
At its most basic, reading is just recognizing the words we see and being able to say them out loud. There are opportunities to practice this everywhere we go. A great way to make reading fun and challenge children to learn new words is to incorporate it into their favorite activities. If you think about it, you do lots of reading for your children whenever you are interacting with them. You read for them at the grocery store, when looking at the TV guide, and even when picking out their clothing. These are all activities your children would love to be more involved in.
For example, if you take your child to the grocery store, you can let them help you pick out the products you need by reading the labels on the package. This doesn't have to mean reading complicated ingredient lists. It could be as simple as asking, "Which package of pudding is plain and which is vanilla?" Or you can make a game where your child gets to buy any one snack they want if they can read the words on the package. The idea is to teach your child that being good at reading has rewards.
Another option is to put your young reader in charge of information about her activities. When coaches and teachers send home information about games and field trips, tell your child that she needs to read it to you so that you know what it says. Chances are she will already know what it is about and be excited to share it with you. This is the perfect opportunity to motivate her to sound out words and really make an effort. She knows that when she gets the words right, you'll sign and she can go on the field trip.
Finally, keep an open mind about the kinds of things your child enjoys reading while they are young. Children don't start out reading whole books. It may be street signs or cereal boxes that they get excited to sound out. Keep an eye out for what they gravitate to and encourage this behavior. When you know what piques their interest, you can provide additional opportunities for them to challenge themselves.
The key is to remember that reading doesn't have to be a grind. Children will be excited to learn new things. If you encourage that excitement by providing fun opportunities to practice, you can raise children who see reading as a passport to new and expanding adventures, rather than a chore.
For more information on encouraging good reading habits, or for support with reading instruction, contact Best Brains at (800) 817-1025 or visit www.bestbranis.com