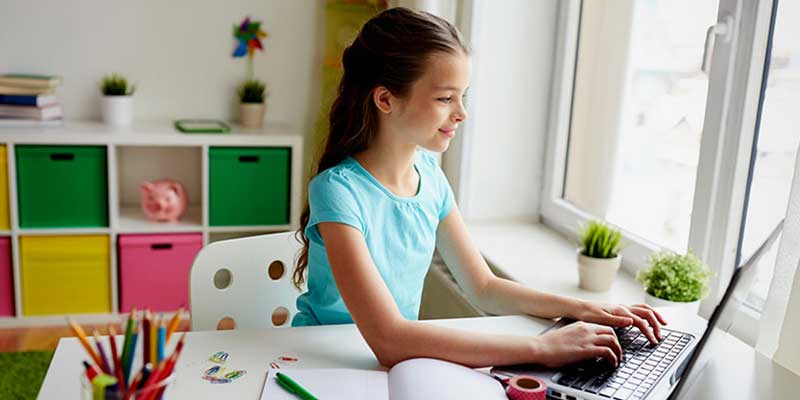 As we discussed when we made our ultimate back-to-school checklist, every child needs their own space, whether they are doing a full day of remote learning or just a few minutes of homework. A good at-home learning space provides your child with a peaceful area within the home dedicated to their education. How can you maximize the efficiency of your child's at home learning space? Let's go over some pro-tips.
Avoid Distractions
Your kid's learning space should feel separate and under their control. Try to find a space in your home away from tv's, gaming consoles, and other distracting devices and toys. If your child's learning space is in their room, consider an out-of-sight, out-of-mind approach, and make sure all items that could potentially distract are put away in bins or even moved to another area of the house entirely. Also, avoid highly trafficked areas in your home like the kitchen. While a kitchen island may be a good place to work on homework together, it can break a child's focus when cooking is happening and they are trying to work. Also consider how sharing a home office may affect your child if your work requires making frequent phone calls. Consider the kind of working environment you feel most productive in and try to duplicate.
Get Organized
We all do our best work in an organized space. Identify all the items your child needs daily and have those within arms' reach. Items that are used occasionally should be stored close by but not directly on the desk or table to avoid clutter. If utilizing a file cabinet or larger storage container, try to find a way to break up shelving into smaller sections with baskets or dividers, and use labeling. You don't want your child to be digging through stacks of books and papers or large dumps of supplies to find the one thing they need, especially during a live teaching session.
Incorporate the Natural World
Try to find a place in your home with lots of natural light. Sunlight for children is more important to their health and development than you might think. In the normal school environment, they may not have the chance to soak in sunshine, so take every opportunity you can! Also consider a small plant or two for your child to care for if you have room. Plants bring joy to a house, and are the perfect companion for a child working on their studies. We forget sometimes that plants are living creatures just like we are, and unlike a pet which may bother your child for attention and maintenance, a houseplant will provide silent support throughout the day.
Purchase Supplies Secondhand
While we may be tempted to go all out and create a Pinterest or Instagram worthy at-home learning space for our kids, the truth is that organizational supplies can be very expensive, and highly marked up in price specifically if they are cute or trendy. Consider shopping secondhand for your supplies. Many local teachers host buy-sell-trade groups online where they sell supplies to one another. If you buy from them, you're being fiscally responsible, supporting sustainability, and helping out a teacher in your community who, let's face it, deserves it more than anyone!
With these tips, you can turn any corner of your house into the perfect at-home learning space to set your child up for success!
Want more help for your kids this school year? You can get homework help, math, and language arts instruction from real teachers at an affordable monthly rate by checking out our link!