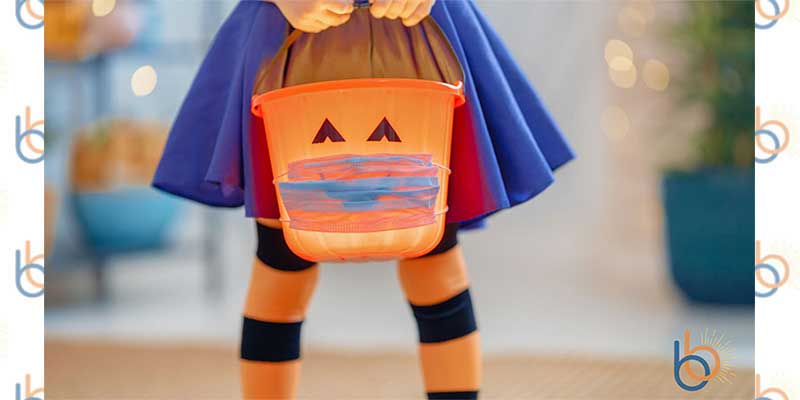 COVID-19 has altered or canceled many of the plans and traditions we celebrate every year. But does that mean Halloween is #canceled? Of course not! Halloween is the most creative of holidays, and we can step up and be creative to make this year's Halloween just as much fun as any other. And we can stay safe doing it.
Which traditional Halloween activities are high risk?
According to CDC guidelines, large gatherings and candy exchange are both high risk activities this year. This means that the popular solution known as "Trunk or Treat," where families gather in a parking lot to share Halloween candy in decorated cars, might not be the safest choice to substitute for going door-to-door. Since the virus is transmittable on surfaces, individually wrapped candies can be a way to spread disease, even if you're limiting person to person contact.
Now, we're not saying that it's impossible to collect candy this year, we just need to take some extra precautions. Make sure your child's PPE, personal protective equipment, is secure and goes with their costume. Or, you can choose a costume that incorporates masks like a super hero, ninja, or cartoon character with a plastic mask. Next, stay in your local community, since traveling can increase risk. If you're participating in a trunk-or-treat event this year, keep all fun size candies in their larger bags until it's time for the event to begin. Use gloves when handling treats, and consider offering gloves to participants or using tongs when handing candy out to avoid direct contact. Or, instead of using the traditional bowl of candy, spread out candy packets on a table, so kids can grab one without touching any others. Use a disposable table cloth that can be trashed when the event is finished. And remember to bring sanitizing wipes to use periodically on surfaces.
If your child is collecting candy this year, consider giving them gloves and wipes, and sterilize all candy wrappers before enjoying. Do not take candy from open bowls left on front porches without sterilizing first, as you can't know who has stuck their hand into it before your child. Lastly, if the kiddos can hold off on touching their candy for 72 hours, then it should be safe to unwrap without risk of transmission. And if all of this precaution seems like too much work or would spoil your child's fun, consider opting out of trick-or-treating this year. There are still plenty of ways to enjoy the holiday, and plenty of opportunities to get a sugar rush!
What are some safe alternatives for Halloween fun?
Since outdoor events are considered to be less risky, many communities have organized special parties and gatherings with COVID-friendly precautions in mind. Consider taking the family, a big blanket, and some candy to a local park that's screening a Halloween movie classic, or organizing your neighborhood to do the same thing! Your kids still get fresh air and the goodies they would get from trick-or-treating, and the whole community can celebrate together in a safe way.
You can also go virtual! Many organizations are putting together online parties complete with costume contests, games, and watch-alongs. Connect with your neighbors or families from another part of the country. Display your creativity by constructing a spooky background for your webcam, go all out with themed desserts, and participate in contests like pumpkin decorating, best family costume, or even most festive pet! Staying home for Halloween also means your costume doesn't need to incorporate PPE like masks or gloves. You can also tour the neighborhood to look at all the spooky lawn decorations. If you noticed more families participating in this practice this year, you're not imagining things. There was an increase in decorations this year, probably thanks to the pandemic, so pile in the car and take a tour. Maybe it will inspire your plans for 2021!
Adjust your expectations for holiday season 2020.
The truth is, the holiday season this year is going to be very different, and Halloween is just the start. Thanksgiving, Christmas, Diwali, Hanukkah, and Eid-al-Adha will all be different than they were in previous years. The important thing to remember is that holidays always change in periods of turmoil. But that doesn't mean that we stop celebrating, or that they aren't as special. Part of the job of being a parent is being responsible for the memories our kids carry with them for the rest of their lives. So be brave, be creative, and above all, be patient. We'll get through this time as one big family, with plenty of great memories to share.
HAPPY HALLOWEEN!!!