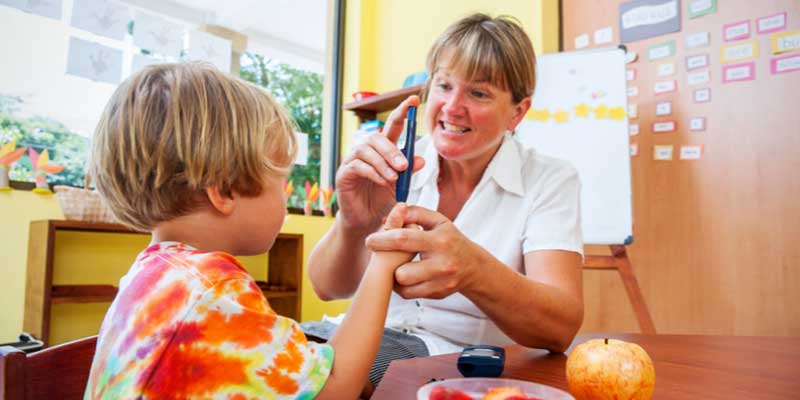 We all love to see healthy and active children enjoying their time in school. But sometimes, a health challenge arises that makes it difficult for a student to fully participate in day-to-day school activities. By working together, parents and teachers can make sure that children get the help they need while making the most of their time in and out of the classroom.
One of the most difficult parts of dealing with a child's illness is that it can sometimes be a challenge to accurately diagnose a problem. Whether a child is suffering physical or mental discomfort, being observant and forthcoming is an important step in making a diagnosis. For teachers, this means noticing when a normally energetic child is less engaged for some period time. A simple solution is to ask the student if they are feeling well or if anything is wrong. Perhaps they'll tell you what's going on. But even if they don't, it's important when you notice a change in a student's behavior to communicate with parents about the student's well-being. Teachers and parents are important partners in a child's education.
Once an illness is diagnosed, it's essential to be realistic about what a child will need in terms of treatment and time away from school. This is where parents have to take the lead. By talking honestly to doctors and specialists, parents can get a sense of what is best for their child's health, and how much time it may take for them to recover or receive adequate treatment. In some cases, this will mean time away from school. In other cases, students can remain in school while they undergo treatment. In either case, this should be a decision that parents make with their child's health care professionals, rather than their teachers.
Finally, when the family has an understanding of the kind of time and accommodations a student might need, they can have a conversation with the schools' administrators to come up with a plan for completing schoolwork. In some cases, it may be necessary to homeschool an ill child so that they don't fall too far behind their classmates. In other cases, parents can make plans for a child to miss a certain amount of school and make up that time in summer school, so that they're able to progress in their education as expected. Still in other cases a child may not have to miss significant amounts of school. It may be enough to inform a teacher that a young student will be out for a week and will make up the work when she returns. The important thing is that parents and teachers communicate clearly with one another about what is needed, both for the well-being of the child and for the educational mission.
None of us wants to think about a child getting sick. But by having a plan and being open with teachers, it is possible to keep a child's education on track while making sure that they get the help that they need. This creates a clear and welcoming school environment for the student to return to when they are feeling better.