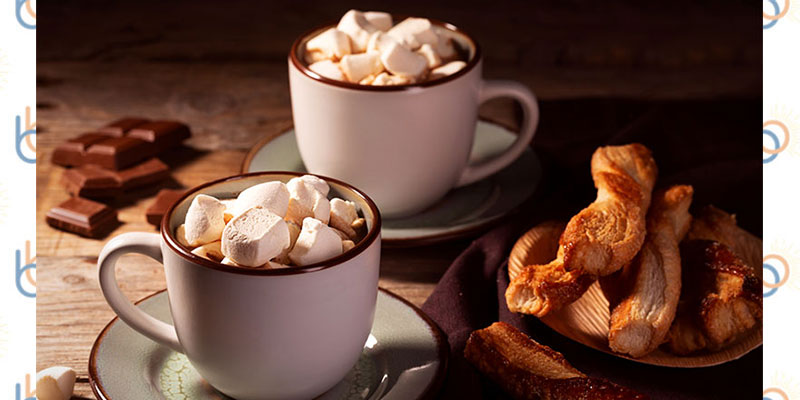 Well, the weather outside may be frightful, but the winter season can be delightful! As the weather gets colder, we enjoy winter activities like sledding, snowball fights, making snowmen, and, of course, warming back up after all these outdoor pastimes with a mug of hot chocolate!
Hot chocolate or cocoa is a traditional winter beverage kids love. It's sweet, chocolate-y, and the inclusion of marshmallows and candy canes makes it one of the rare foods you're allowed to play with. What could be better?
Let's take a look at a way to make this winter tradition an unforgettable, over-the-top experience: The Hot Chocolate Bar!
Much like a s'mores bar or a charcuterie board, a hot chocolate bar allows the family to make their hot chocolate their way, with toppings, flavors, and snacks to suit anyone's tastes. Let's build the ultimate hot chocolate bar, one element at a time.
Step 1: The Cocoa
Hot cocoa is traditionally made one of two ways, either by adding cocoa powder to hot milk or water, or using chocolate syrup instead. Hot chocolate mixes can also be used rather than cocoa powder alone. While these are all good options for typical hot cocoa, today we're going a step further, and that means crock pot hot chocolate!
The crock pot, or slow cooker, has many awesome uses in the kitchen. For your hot chocolate bar, it's the vessel that you make and serve the beverage out of, keeping the leftovers at the perfect temperature for a second cup. In the slow cooker, you can combine milk or cream, sugar or sweetened condensed milk, and real chocolate to melt together into a decadent mix. Using the slow cooker also means you can add spices like cinnamon sticks or chili powder. You can make it as spicy, rich, light, or sweet as you want!
Another option is the hot chocolate bomb. These adorable orbs are usually made of chocolate and filled with surprises like marshmallows, edible glitter, and more. When gently placed into heated milk, the chocolate melts, revealing the contents within. Kids love these trendy treats! You can make or purchase a special chocolate bomb for each member of the family based on what they like most. Or, you can set a random assortment that the family must choose off the bar, creating some tension and anticipation to see what comes out when the bomb breaks open!
Step Two: The Toppings
Whether you choose marshmallows or whipped cream, hot chocolate requires some sort of topping that will melt into the steaming liquid. With a hot chocolate bar, you don't have to choose, you can have both! You can whip your own cream with a hand or stand mixer, or surprise your kids with flavored gourmet marshmallows. A little extra effort can have a sweet payoff.
Now, let's get really over the top, literally! Consider adding syrups like caramel, chocolate, or mint to drizzle over your cup. Dust with pumpkin pie spice, toasted sugar, or cocoa powder for a bitter bite. Layers of flavors make those first sips all the more special!
Step Three: Sweet Snacks
You can't have hot chocolate all by itself on a hot chocolate bar. Let's bring on the snacks! Just like with coffee, hard and sweet baked goods like biscotti, gingerbread, or shortbread are perfect for dunking. A little fruit salad can also compliment the taste of the chocolate while cutting through the creaminess with bright and tart flavors. Or go old school with pound cake, banana bread, or chocolate chip cookies. You can even set your hot chocolate bar up like a fancy tea time with scones and jam, finger sandwiches, and petit fours. The best thing about the bar set-up is that you don't have to choose; you can include them all!
Step Four: Get Personal
Maybe your family isn't big on drinking milk, or you need to limit your sugar intake. No problem! You can adjust your hot chocolate bar to reflect your dietary concerns. Use almond or coconut milk in place of regular milk as a delicious substitute. In fact, you might want to do this anyway, as too much lactose can be hard on sensitive stomachs. Consider sugar substitutes like agave nectar or sucralose.
Perhaps hot chocolate itself isn't really a tradition in your family. That's fine, too! Set up a hot chai or tea bar instead, with a sweet and spicy blend you and your kids will enjoy, with sweet snacks reflective of your culture. Bond with your kids as you share your cultural heritage through food.
This winter season, take a moment to reflect on how you can create special memories for your family that will last a lifetime!