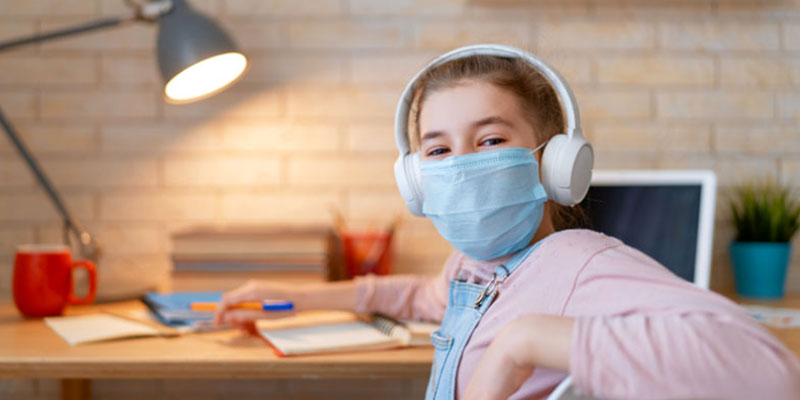 Since the beginning of the school year, schools have been experimenting with the hybrid classroom model in an effort to ease students back into the classroom. In a hybrid classroom, some of the attendees are in-person while others are logged in via computer at home. The hybrid classroom, first used in university lecture halls, has been turned to as the solution to help students struggling with distance learning. In a hybrid model, students get face-to-face time with teachers as well as peer interaction. But the hybrid model is not without its criticisms.
First we must ask: how are students and teachers coping with hybrid classrooms? With a lot of difficulty. It's being described as the best of both worlds and the worst of both worlds, at the same time. The whole point of hybrid learning is to ensure some face-to-face time with a teacher. But one teacher in a classroom with both in-person and over-the-computer students? This is splitting the teacher's focus and neither set of children is getting the kind of attention they need. Many parents have reported being dissatisfied with the level of engagement their kids are getting during the school day. And in many districts, kids are coming to school only to sit on the computer and continue their learning.
How can parents gain the benefits of sending their kids back to school without the shortcomings of the current model? Best Brains parents have always found tremendous success for their kids by supplementing their education with our weekly classes with guarantee 1-on-1 instruction from real teachers. Since Best Brains is designed to reinforce and broaden knowledge of concepts learn in school, enrolling in Best Brains means that your child will always receive direct communication with a qualified instructor and the time necessary to ask questions, demonstrate ability, and improve skills.
Our centers are opening back up and our teachers are ready to return to face-to-face instruction. Utilizing sanitizing protocols, smaller class sizes and PPE for our staff allows us to safely welcome our kids back to our tables. Our entire business went online back in March 2020 with great success. We will continue to host weekly online classes for up to 3 students in a room guaranteeing that students get the personalized attention they need not matter where they attend class. We have discussed before what needs to be done to make distance learning effective. These are the tactics we have employed in our virtual classrooms to keep kids on track. Now we can provide the same in-person instruction we were known for pre-pandemic as well.
With the Best Brains model, there is no learning curve. We have been carrying on business as usual and business augmented. If you are looking for the 1-on-1 attention needed to make the hybrid classroom work best for your child, consider signing up for Best Brains to ensure they are receiving the highest quality education either in-person or online.