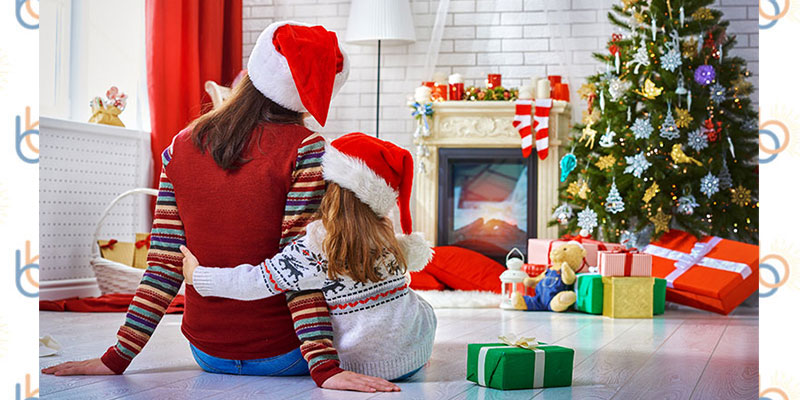 "Have yourself a merry little Christmas," the song goes. For many people, that's not always possible. Whether you celebrate Christmas, Diwali, Eid-al-Adha, or one of the other many winter holidays, It's hard to escape the feeling that we must be joyful all the time, and when we're not, that can cause us to feel anxious or guilty.
Christmas itself can be a source of sadness for some. In the US and Canada, Christmas imagery is everywhere in winter. Decorated trees, nonstop carols on the radio, Santa-themed commercials, and other signifiers of the holiday seem to be everywhere you look. And for people who don't celebrate Christmas, this can have a negative effect on them, even if they think they should be feeling happy.
The fact that so many cultures around the world do celebrate some sort of holiday during the coldest and darkest months is probably not a coincidence, to create a source of light and joy during difficult times, both physically and mentally. Seasonal Affective Disorder, or SAD, is a diagnosed condition where the winter months affect a person's mood and sense of self-worth, making them feel depressed. About 5% of adults in the US suffer seasonal depression, which can last about a third of the year! While winter holidays can help a community focus on the positive and spread joy, it isn't a cure-all for very real emotional issues.
Circumstances can also interfere with our enjoyment of the holiday season. Due to COVID-19, millions of families have had to change how they are celebrating the season. Many have lost at least one family member to this disease, and will certainly be missing them this year. For those of us who have not personally been affected by the coronavirus, we can all take a moment to acknowledge that, as difficult at this season might be for us, we can count ourselves lucky in this regard.
The holiday season has been a part of human culture for tens of thousands of years, seeing us through the highest highs and the lowest of lows. And while how we celebrate may change with the times, the spirit of the season will always remain.
How we traditionally think of Christmas nowadays is largely thanks to hardship, particularly the American Civil War. Before then, there was no generally accepted way to celebrate Christmas. In fact, many Christians thought it was in bad taste to host lavish parties and give out lots of gifts on what was, to them, a solemn day of prayer and reflection. What we think of now as typical Christmas behavior actually has rather sad roots, as a display of "generosity" by wealthy plantation owners to the people they owned. During the Civil War, Christmas became a way to boost morale among Confederate and Union soldiers. Families embraced homemade gift giving when there was no money for store-bought goods. And magazines filled their pages with the joy of the Christmas season. When the war was won and the United States reunified, Christmas became a way for all citizens to celebrate together in a common way. Passing the first federal holiday law, Christmas became an official federal holiday in 1870.
Americans once again faced difficult times during the Great Depression, which lasted from 1929-1939. During this time, about 25% of the American labor force was out of work, which put a tremendous strain on families. So, what was Christmas during the Great Depression like? Since Christmas had become a treasured holiday since the days of the Civil War, families honored Christmas however they could, whether it be a nice meal, a handmade gift, or even a simple orange. Any kids who grew up wondering why their parents always put an orange in the toe of their Christmas stocking, this is why. It's a tradition that grew from extreme hardship, when a juicy orange may be the only gift a child could hope to receive.
As you can see, the holiday season has survived and thrived through hardship and stress. So, what can you do to cope with holiday stress? Firstly, remember to focus on your own mental health. Your state will affect everyone around you, especially your kids. Holiday stress can get us to think of everyone else besides ourselves, but take the time you need to take care of yourself. Even a single virtual chat with a therapist can help unload some of your burdens and focus you to get through the next month.
Next, come together as a family and acknowledge things will be different. Talk to your family about which traditions are the most special to them, if and how they will be affected by quarantine, and make a plan of action to address these changes. Make new traditions, and let go of old ones that have been causing you all stress and no joy, even in the past. Like any problem, ignoring it is not the answer. Being proactive and patient will yield the best results.
Lastly, try to focus on gratitude and positivity. Just like people in the past have done, use the holidays to reconnect with loved ones, share generosity, and remember how precious and special life truly is. Make connections with the other people in your life. They're probably feeling the same stress and anxiety you are. Be a bright spot in their day, and together we can fill this dark season with light. After all, isn't that what the winter holidays are all about?